The Domaine du Deffends has existed since ancient times; one can find the ruins of a Gallo-Romaine farm (stones, broken bottles, pottery…), once we even found a sesterce (roman coin), but the activity was no doubt essentially consecrated to olive trees and cereals.
When Jacques de Lanversin acquired it in 1963, it had long since been abandoned apart from a brief occupation during the war by "les Chantiers de Jeunesse," a French paramilitary organisation of the time. His plan was to cultivate the land (approx. 14 hectares) as it had been previously, and given the nature of the chalky clay soil, he thought it would be perfect for grapevines. He was not yet thinking of making wine, but of growing a grape capable of producing a quality wine.
With this aim, he planted, at first, Grenache and Cinsault and then, after having seen at close hand the experimentation carried out in Rians by the former owner of Château la Lagune, Georges Brunet, he choose to add Syrah and Cabernet-Sauvignon to constitute the base of a "vin de garde."
That was the way he set it up. However, Jacques' initial idea to sell on his grapes based on their quality was scuppered by a new law passed in Paris. The "degré/hectolitre" law made it, for one reason or another, economically impossible. He tried to find ways around the legislation, but, in the end, was left with a stark choice; rip out the vines and sow cereal to limit the maintenance costs or, go all the way with the vines, build a cellar and make the wine himself. Thankfully, Jacques went for broke and opted for the latter. Then, when his earlier gamble that this stony and visibly arid soil could produce the goods proved to be true, he was on his way and it was not long before the quality of the wines were duly recognised.
In 1995, the arrival of the Canal de Provance saw the Saint Maximin plain, which had at one time been dedicated entirely to grapevines, convert to polyculture. From the three wine co-operatives that were part and parcel of village life, only one remains, l'Amicale. Only four private producers are left; Domaine de Saint Jean le Vieux, Vignoble Arnaud, Domaine Saint Mitre, Domaine de la Batelière. As in many places, the last 20 years have been hard on local agriculture and the village way of life.
The Deffends vineyard consists in one piece. Due to a constant gradient and a privileged orientation East-Southeast at 400m altitude, it rarely suffers from freeze. We cultivate 7 grape varieties on 14ha.
Since the beginning, we have chosen to highlight the syrah and cabernet sauvignon grapes in the original assembly of Champs de la Truffière (first vintage in 1982).
Grenache noir was inevitable too. Its expression differs widely in the South, Spain, Languedoc-Roussillon, Rhône, Provence. It's difficult but rewarding to cultivate.
Cinsault is another local grape variety, the vigour of which is dompted by our terroir and which provides us some welcome freshness.
When we started to make white wines in 1990, we chose Rolle (called vermentino in Italy), a traditional grape variety known for its vivid character, and Viognier, for its full body and complexity.
In the garrigue of Provence, in the shadow of oaks and almond trees, vines have found their place since a long time. And men have taken great care of them. This history continues with today's team. Wine is a natural product, but it would not exist withou the women and men that make it.
Depending on the season and the agenda of the vine and the winery, we are between 3 and 15! For more than 40 years, we have worked day in day out to bring the best of the terroir and reveal its distinctive character in our wines. Our six different varieties – Grenache, Syrah, Cabernet-Sauvignon, Cinsault, Rolle, Viognier – have established deep roots in our chalky clay soils which enjoy an ideal south-east orientation. Our whole vineyard is organic (Ecocert).
But we don't stop there – we have a global approach of our vineyard in its environment. We work with l'ADEME, Bio de Provence and the PACA Region. An in-depth technical analysis allows us to monitor the main indicators of biodiversity and to constantly improve our ecologic footprint.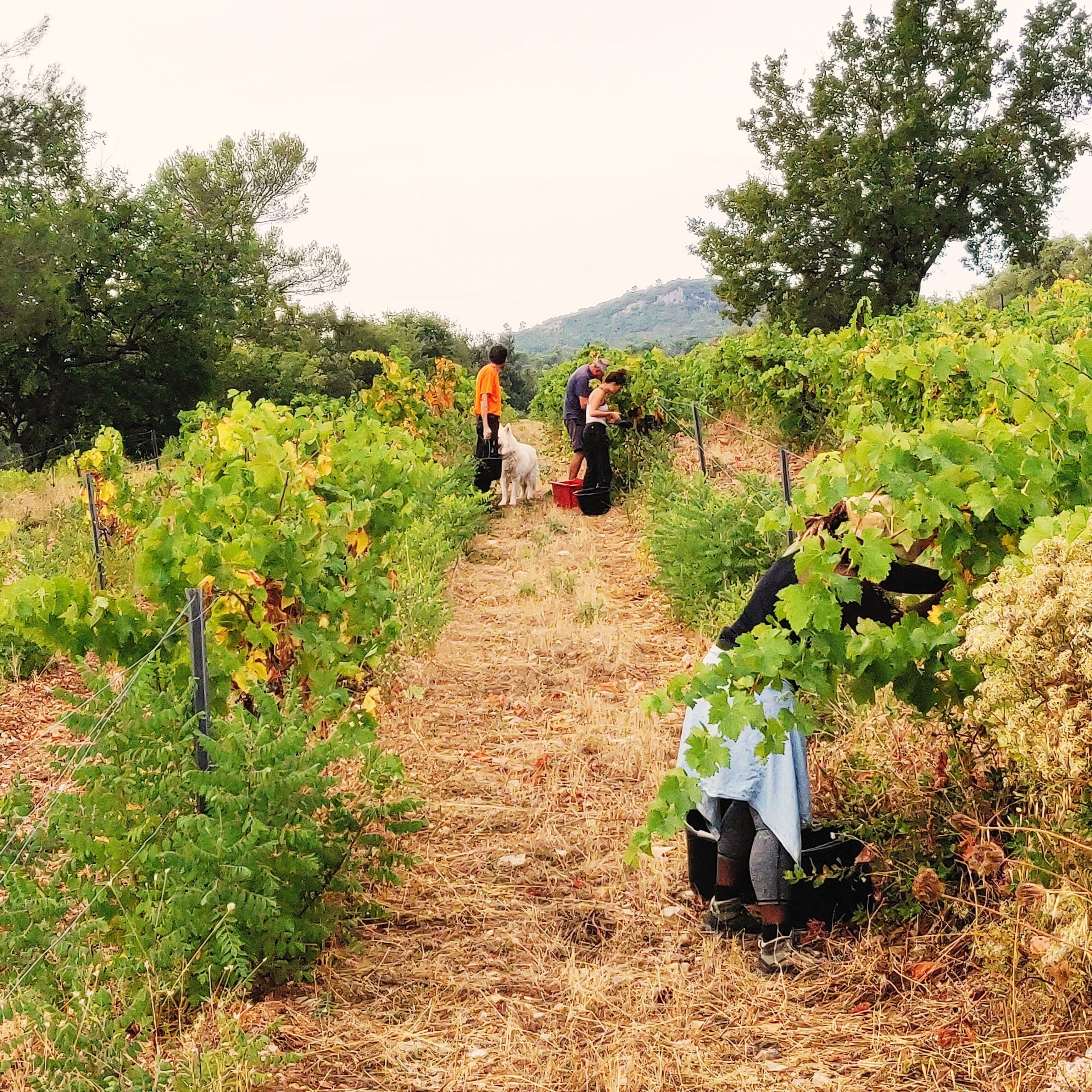 We harvest partly manually and partly by machine. From the vineyard to the winery, the grape never takes more than 10 minutes, the best protection against oxidation. We harvest at optimum phenolic maturity.
Good organization and the small size of our vineyard allow us to harvest our grapes within a very short time if necessary in order to perfectly take into account meteorologic constraints.
Some fields are harvested in several times in order to only choose perfectly mature grapes. Red winemaking is done with the utmost respect for the grape quality.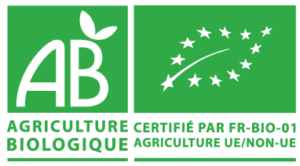 All of our vineyard is organically farmed (Ecocert).